3D Printing
3D Printing
Trifisk Manufacturing Inc. is proud to offer 3D Printing services in Windsor and Essex County. Our Markforged Mark Two 3D printer has the capability of printing durable and complex parts for business or personal use.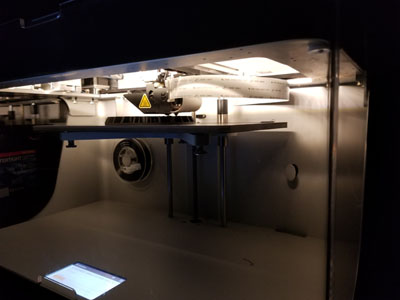 About the Printer
The Mark Two utilizes Markforged's latest 3D printing technology to bring composite fibers to the industry for the strongest and most versatile parts available from a plastic 3D printer. The Mark Two produces reliable parts that can be used anywhere, from automation robots, CNC soft jaws, to fixtures. With your choice of fiber reinforcement and carbon plastics, the Mark Two eliminates the time, costs and hassle of traditionally machined parts.
High Strength / Lightweight Applications
The Mark Two 3D printer can produce very precise and complex parts for many applications such as prototypes and other low production parts. Examples of these parts include (but not limited to): limit switch brackets for machinery, CNC lathe spindle liners and soft jaws, and fixtures for dimension checking or holding parts for assembly.
As shown, this two way radio base stand was designed and produced as a prototype for a local radio enthusiast.
We have been a proud sponsor of the Villanova Wiredcats First Robotics Competition Team 5885 by printing various prototypes and other functional parts for their robot. You can find out more about our sponsorship of FRC team 5885 here: http//www.wiredcats5885.ca/sponsorships.html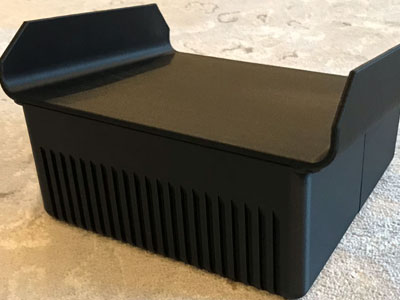 Materials
The Mark Two offers two different materials to meet your individual 3D printing needs.
Onyx
Onyx is a (black) nylon based plastic that shares the printability of traditional PLA (Polylactic acid) but with excellent surface finish and nearly twice the strength. This nylon material is infused with chopped carbon fiber to deliver cost-effective, strong, and lightweight parts. Onyx proves to be a more durable material than traditionally used thermoplastics.
Nylon
Markforged's nylon (translucent white) offers a durable yet semi-flexible plastic that shares some of the characteristics as Onyx.
Fibers
In addition to Onyx and Nylon printing, the Mark Two prints materials that no other 3D printer can, utilizing continuous strands of carbon fiber, fiberglass, or Kevlar. The printer starts with an outer shell of Nylon or Onyx, then prints the fiber strands within the shell in customizable patterns to strengthen the part.
Carbon Fiber
Carbon fiber is a lightweight fiber that will reinforce parts with outstanding strength. Carbon fiber is useful for high strength applications but is more costly.
Fiberglass
This strong fiber can reinforce parts during an application when heat or high temperature is a factor.
Kevlar
Kevlar is the happy medium between flexibility and strength. This fiber is useful for applications that require a higher strength than Onyx but require slightly more flexibility than carbon fiber and fiberglass. It is more cost effective than both carbon fiber and fiberglass.
What Can We Print?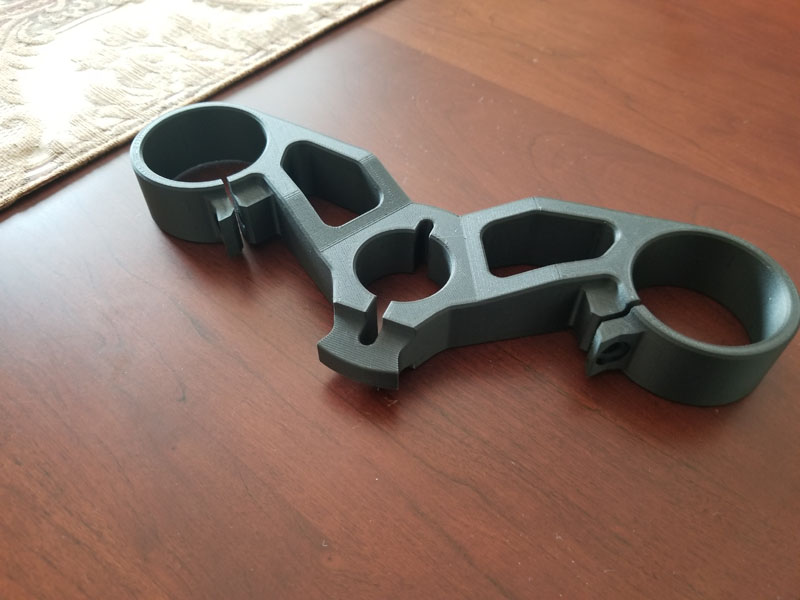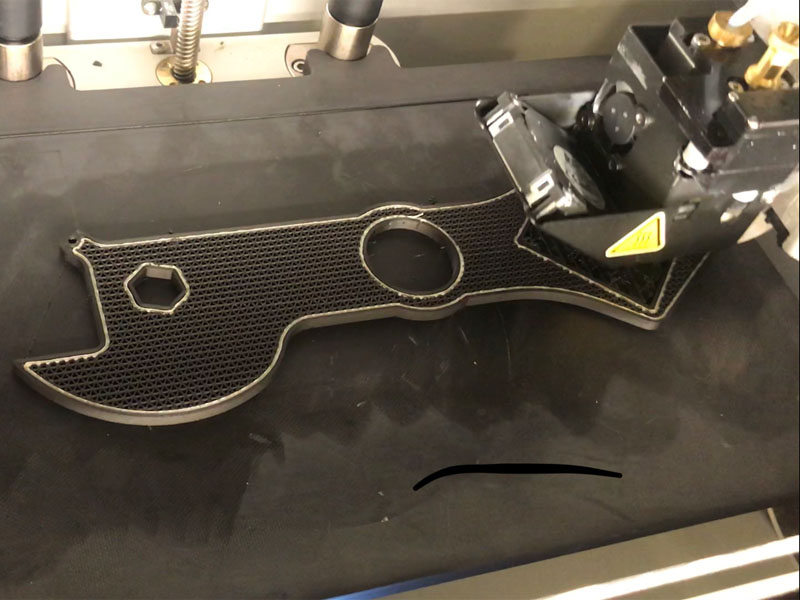 The Mark Two is designed to print complex parts to match your specifications. Trifisk utilizes the Mark Two 3D printer in creating prototypes for new de-scaling techniques to help increase the proficiency of our product lineup. Aside from prototyping, parts that can be printed are (but not limited to):
Automotive, Machine Components
Sheet metal dies
Tools, Fixtures, Checking Fixtures
Brackets, Proxy, Micro Switch, Cable Management
CNC soft jaws, CNC T-Slot table fixtures
Spindle liners for CNC lathes
Embed printing is a technique utilized when a fastener is to be made into the print. This is done by pausing the print at a certain layer, implanting the embedded piece and having the printer print over the piece. Parts that are larger than the build volume of the printer can be printed in two different ways. Your part can be created using multiple prints and joined by adhesive, or be printed to interlock with each other. Feel free to contact us for any further questions or inquiries about printing parts.
Learn More About Our 3D Printing Service
To learn more about 3D printing in Windsor and Essex County from Trifisk Manufacturing Inc. including our printing capabilities, email us at trifiskmfg@gmail.com.
---